Browse the available services we offer
Comprehensive Eye Exams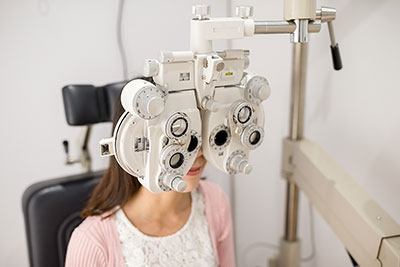 Our comprehensive eye examinations evaluate your eyes, both inside and out, for any potential disorders or diseases. Your visual skills and abilities are carefully evaluated and appropriate treatment is prescribed – whether it's medication, lenses or low vision rehabilitation. All of our doctors have extensive residency training and are prepared to handle whatever your eyecare needs may be.
Technology is rapidly changing the eye care industry. We utilize the latest in diagnostic equipment and are committed to keeping up with whatever advances will come next.
InfantSEE®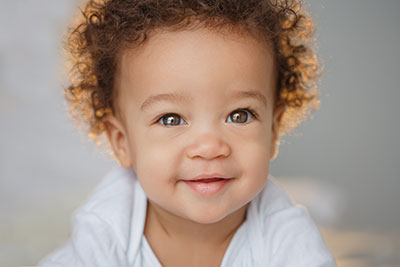 InfantSEE®, developed by the American Optometric Association and The Vision Care Institute of Johnson & Johnson Vision Care Inc., is a public health program designed to ensure that eye and vision care becomes an integral part of infant wellness care to improve a child's quality of life. We feel so strongly about the importance of healthy vision that participating member optometrists will provide a no-cost comprehensive infant eye and vision assessment within the first year of life.
Contact Lenses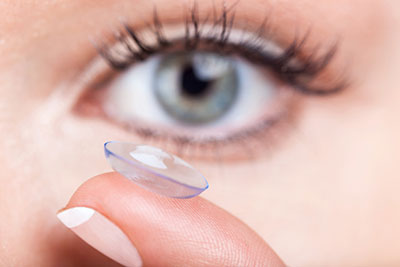 We have been fitting specialty contact lenses for years and have seen some incredible changes in that time. By far most exciting changes have occurred in the last few years. Although rigid contact lenses are a shrinking segment of the industry, we still have a large number of patients who wear them.
The gas-permeable lens materials available today far surpass those available just a few years ago in terms of eye health and comfort.
Allergies can be particularly annoying to contact lens wearers. In the past many people had to quit wearing their lenses for a month or two during the allergy season. New lens materials and allergy medications have made it possible for these people to eliminate itchy eyes. These medications such as Patanol and Alocril are amazingly effective and safe even in children as young as three.
Optical Dispensing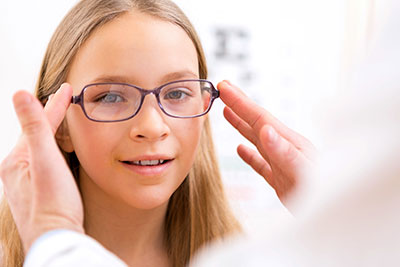 Our optical laboratory has the latest in equipment to not only fabricate your glasses, but to maintain and repair them should they become broken or damaged. We are able to tint, coat, harden and edge spectacle lenses. We are able to provide you with any frame or lens design available. Our highly qualified optician and staff are able to adjust and fit your glasses to you for extended comfort and vision.
Laser Vision Consultation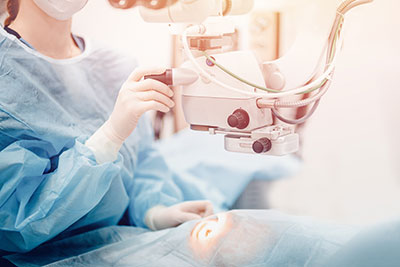 Everyone is talking about LASIK. Here is a brief description of the procedure.
A flap is cut in the cornea and then the flap is gently folded back. An Excimer Laser is used to reshape the cornea, much like a contact lens forms a new shape on the cornea, only the laser is permanent. The flap is then put back in place, acting like a natural bandage.
The "Wow!" effect of Lasik is the very rapid recovery of vision and the decreased level of discomfort post-operatively. You hear from people that they did not feel anything, and could see well the very first day. Most people have functional vision in 24-48 hours, although this is true in some cases, it must be noted that each person will heal at a different rate. Vision, although greatly improved immediately after surgery, continues to improve for some weeks, even months.
Everyones eyes are different. Even though you may have had a friend who has had LASIK, it does not mean it is right for you. If you are interested in laser vision correction, we will be happy to guide you in picking the right surgeon, procedure and laser appropriate for you. For many of you who are long-term contact lens wearers my pre-operative input can make the difference between an excellent result and a mediocre one.
Post-operatively we can monitor your eyes, and taper medications to arrive at the best possible result. After all, no one knows your eyes better than your optometrist.
Preventative Vision Care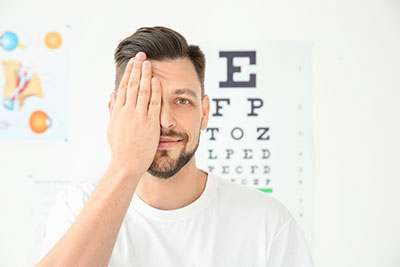 Vision, in the broadest sense, is the global ability of the brain to extract, process and act on information presented to the eye. This complex process can be thought of as three major but related areas: visual acuity, which is largely dependent upon refractive status and eye health; visual efficiency skills, representing eye focusing, teaming, and tracking skills; and visual information processing, representing the ability to recognize and discriminate visual stimuli and to interpret them correctly based upon previous experience. Every examination we provide, regardless of age, has these thoughts in mind.
Eye Infection, Eye Injuries, Dry Eyes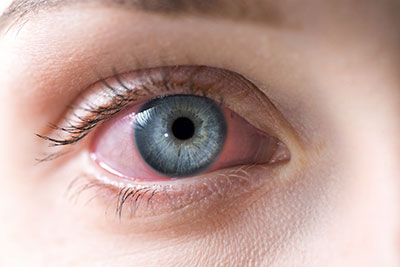 Our office provides emergency services for eye infections and eye injuries. Please call our office at 952-447-2020 and our staff will work with you to schedule an appointment as soon as possible. State of the art microscopes allow us to examine the front surface of the eye and facial areas around the eye for infection or injury. After assessing the extent of the injury or infection a treatment plan will be formulated and explained to you. Treatment may include medications and supportive care. Follow-up visits to monitor your recovery will be scheduled as needed. Dry Eyes: Symptoms include scratchy eyes, burning, mild redness and gritty feeling eyes. Oral medications, reading, computer tasks and dry environments may aggravate marginally dry eyes. Dry eyes can be diagnosed by using dyes to observe tear patterns, evaluation of the amount of tears on the front of the eye and from review of your symptoms. Treatment may include artificial tears; eye drops for treating allergies; and/or punctal plugs inserted in the tear drainage canals.
Eye Diseases; Cataracts, Glaucoma, Diabetes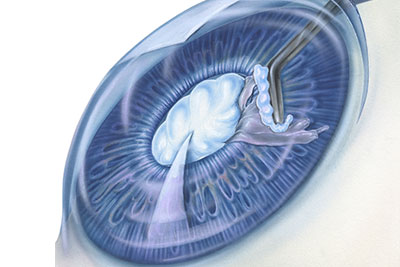 Cataracts: The natural lens in the eye gradually becomes less clear as we get older. When opacities develop in the lens and the lens gets too hazy, vision will be impaired. Our office can diagnose and manage cataract care. When the cataract affects the vision to the extent that you cannot read or see distant objects comfortably, we will recommend cataract surgery. Our office co-manages with cataract specialists that are proven experts in cataract surgery. Cataract surgery can provide you with a bright new world of vision.
Glaucoma: Glaucoma gradually destroys the optic nerve tissue in the back of the eye. The greatest danger of glaucoma stems from the fact that the disease is painless and without obvious symptoms until significant damage has occurred. The most common cause is from pressure being too high inside the eye, but vascular disease and other diseases can also cause glaucoma. We always monitor for glaucoma during routine eye examinations. Tests include checking the pressure of the eye, screening for peripheral vision defects and analyzing the appearance of the optic nerve. If you are diagnosed with glaucoma, we typically prescribe medications that lower the eye pressure. Most forms of glaucoma are successfully treated with eye drops. Laser treatments and eye surgery are secondary treatments that offer alternative ways to treat more advanced glaucoma.
Diabetes: Diabetic patients should have a dilated retinal examination each year. Laser treatments have proven to slow the progression of retinal eye disease for many patients. Diabetes often stimulates the growth of new blood vessels in the back of the eye, which ultimately leak and damage the retina. If this condition is discovered early, laser treatment can destroy these vessels. We have the latest instruments used to detect changes in the back of the eye. If we discover advancing diabetic eye disease that can be treated or needs further evaluation, we will refer you for consultation and further testing to a board certified retinal specialist.
TearLab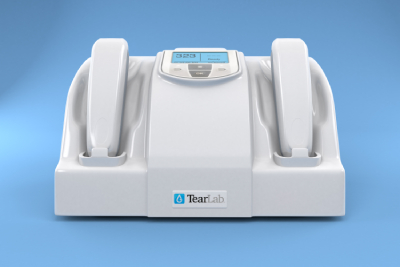 The TearLab Osmolarity Testing System provides a rapid laboratory-style test for dry eye disease that can be done right in our office. This test provides precise and objective data on tear osmolarity that empowers us to diagnose the severity of your dry eye condition and track
how well treatment is working for you over time. This test can also be used to rule out dry eye as a cause of your symptoms and guide us to look at other causes. Dry eye disease or other problems with the tears can often go undiagnosed, in part because patients do not always notice or recognize the symptoms.
When tears have too much salt content (called hyper-osmolarity) and may cause damage to the surface of the eye and impact sight. Hyper-osmolarity can interfere with your ability to wear contact lenses comfortable. In addition, hyper-osmolarity can interfere with accurate planning for cataract or refractive surgery and dry eye symptoms can also worsen after surgery if not properly managed.
Call us today or visit our appointment request page to find a time that is convenient for you to see us.